*Drs Hainsworth, Purcell & Jamieson inc. are specialist anatomical pathologists located in KwaZulu Natal South Africa.
Our couriers collect daily from doctors throughout the greater KwaZulu Natal region. These couriers have dedicated routes for collection and delivery of specimens and reports. Areas of collection are shown in the map below.
Our routine collections are Monday to Saturday mornings. After hour and Sunday collections can be made upon request as long as specimens are preserved in formalin or alcohol.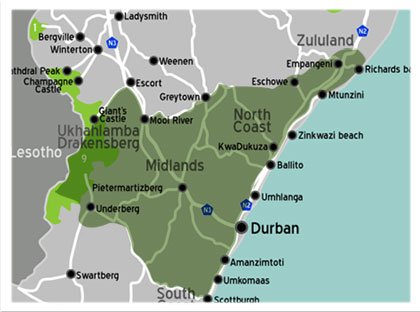 SPECIMEN COLLECTION
Routine Histology
Formalin (10% formaldehyde)
Urgent Histology
As above but inform the laboratory, as these may undergo microwave processing
Urgent Microwave Section
Arrange with laboratory
Never place in formalin or saline
No preservative required
Cytology
Pap and other smears
Fix with Cytofix spray
Fluids and liquid based specimens - submitted in Cytolyte (liquid-based cytology preservative fluid)
Do not place in refrigerator
Special Request
Electron microscopy - call lab (gluteraldehyde)
Immuno-flourescence microscopy - call lab (Mitchell's Medium)
Testicular biopsies (normal formalin)
Renal biopsies - call lab
Muscle biopsies - call lab